Revision of Working Gordon Setters: Field Trials & Training.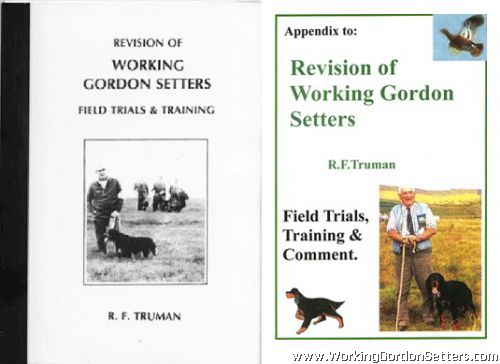 by R.F.Truman. Weardale Publishing,1993. ISBN 197822014. 2nd Edition. 2003.
This is not an enormous book – 140 pages in all – but its size belies the amount of information the author has managed to pack in. Bob Truman describes it as an 'update of the working lines of the Gordon Setter breed together with an explanation of Field Trials for the Novice and some of the methods he uses to train to a competitive standard. His credentials speak for themselves in four Field Trial Champions owned, trained and handled .
However, even if you never have any intention of running a dog in a Field Trial, but would enjoy knowing why your Gordon does what it does and how to use that knowledge to give you the sort of control which makes a dog a pleasure to live with – then this book is a must.
The book is divided into three sections.
Section I covers a history of the working Gordon since the 1950's, describes the main kennels producing working Gordons and looks at Gordons in competition. The short Chapter on breeding lines is particularly interesting and gives food for thought for those who do not want the Gordon to follow the English Setter into a split breed. The section ends with an introduction to The Gordon Setter Field Trial Society.
Section II takes the reader into the world of Field Trials and explains exactly what is required of the dog in a Field Trial situation. The obligations of the Handler are explained and he gives the Kennel Club Regulations regarding Setters & Pointers
Section III gets down to training, beginning with buying the puppy and the basics which you can start at seven weeks old. Points made in the text are amply illustrated with photographs and sketches; suggestions are made for dealing with problems and again the author does not shy away from controversy but includes a chapter on the Electric Collar. His ten commandments for early training should be handed out with every puppy sold – common sense but always worth reinforcement. He finishes by following on from Gompertz in listing winning working dogs, detailing their awards in Trials and providing a record of dogs which is unique in any working breed.
Any criticisms are minor, one being the size of the print which was presumably dictated in order to include as much as possible, but which makes for a very dense page to read. Mr Truman obviously writes as if he is chatting to you and occasional sentences had me re-reading to check the actual meaning. My only other criticism is that it didn't appear sooner- having tried to train three Gordons, I would have welcomed this a long time ago!
Mrs G.Vick, President, Gordon Setter Club of Scotland.
Prices: Revision of Working Gordon Setters Field Trials & Training (1993) Clipbound A5 with black & white photographs £12 + postage Appendix to Revision of Working Gordon Setters Field Trials & Training. (104 pages)
This is an update (2001) of the earlier Revision of Working Gordon Setters Ringbound A4 with colour photos £15.99 + postage
Either of these books are obtainable from the author's wife: Gill Truman, Assarts & Gawcott Gordon Setters
Please fill in the contact box for more information and postage costs