Working Gordon Setters in 2005
30/01/2006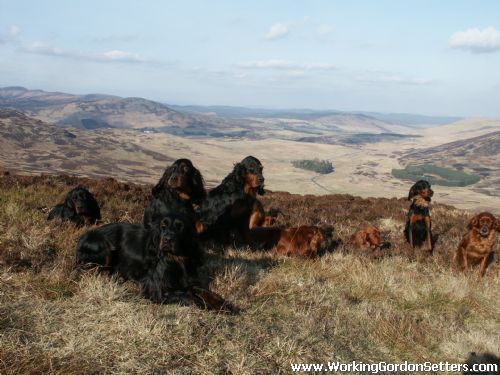 This article was first printed in the British Gordon Setter Club's Year Book for 2005, as one of four articles looking at the different aspects of owning Gordons in 2005 from the show, work and companion viewpoints.


I have been invited to write about my view of Gordon Setters in 2005, from the working perspective.
My first awareness of Gordon Setters came from reading descriptions of the different dog breeds as depicted in the Observers Book of Dogs, to a group of blind and partially sighted people who were on a training course at Guide Dogs for the Blind. This was not part of the course, but one of the students who had been blind from birth wanted to know how a Labrador differed from a Golden Retriever or a Boxer; many people joined in with their own observations and after listening to conflicting opinions I decided that reading from a book would be helpful, and so our game began. As I was going through each breed describing what they looked like from the photo and written description I was drawn to the Gordon Setter, I can't really say just what it was, it couldn't have been the colouring as the photo was in black and white, I just knew that I was very interested in learning more about the breed. One of the trainers gave me a list of people who bred Gordons and my search began. I chose a show bred bitch that was too small to show. I had shown horses in the past but not dogs and I knew I wanted to work a dog, although I didn't really have an idea of what they were supposed to do. I couldn't afford much, so I arranged with Mrs Grimes (Belsud) to pay a small amount up front and have Belsud Mandy on breeding terms – I was to put her to a Ft Ch dog (Ft Ch Index Dipper of Crafnant); I could keep one dog pup but the rest of the litter went back to the Belsud kennel. I wasn't allowed to keep my own dog while still working at Guide Dogs so I left my job to be with my Gordon Setter.

I attended my first field trial in 1976, when my son Nick was just 10 weeks old; in fact I had been hoping that he would be able to hold his head up enough to be carried in a new type of baby knapsack that was just out – he managed it two days before the trial – good boy! Once at the trial I took it in turns with my husband Stephen to watch the trial or stay at the vehicle with a sleeping baby. What I saw at the trial made me so excited, when I saw the dogs running, I found the speed, agility, grace and style of many of the dogs breathtaking – I just knew that this was what I wanted to try to do.

There weren't too many Gordons running in trials in the late seventies but I watched in awe when George Burgess (Crafnant), Brenda Partridge (Clitters), Bob Truman (Assarts) who returned from Rhodesia in 1979, and Derek Abbot (Posternpark) who ran a Clitters bred Gordon as well as his English Setters, took their dogs up in front of the judges. As far as I remember the only show bred Gordon running and winning awards then was Ch Swanley Strathspey handled by 'Pop' Allen. Apart from these few able handlers, Gordons seemed to have a bit of a bad name amongst the main body of field trial competitors, due in part I suspect, to many of them being let off the lead to race up the middle of the beat and never be seen again for hours!

Obviously, I wasn't there just to watch and learn from Gordon handlers; there were many trainer handlers of other breeds who inspired me to dream of having a Gordon Setter which could run and compete with the best of these for game finding, pace and style. For Pointers there was Patricia Wood (Spinningloch), Michael Early (Kilmacud), Lady Jean Fforde (Isle of Arran), Joyce Damerell (Sparkfield); for Irish Setters, John Nash (Moanruad), Billy Hosick and Billy Darragh (Erinvale); and for English Setters Mrs Betty Town (Sharnberry).

Through the eighties, Gordons became even stronger competitors at trials with the arrival of Mike Daw (Carissa), Michael Thompson (Invercassley), Jane Osborn (Boyers), Wilson Young with an Assarts dog, and Declan O' Rourke (Lusca). During the eighties the summers were mainly very hot and dry, this suited the stamina and noses of the Gordons and they fared well against the stiff opposition from all other pointer and setter breeds.

The early nineties saw a decline in the number of top quality Gordons which could compete with the best of the other breeds, and regularly gain awards. By now George Burgess, Brenda Partridge and Mike Daw had all stopped running dogs and they were sadly missed. I have a health problem that kept me from competing with a dog for over seven years. As the Gordon awards decreased the quality of dogs running in field trials from other breeds improved, this was a time for some outstanding Pointers, Irish and English Setters. By the mid to late nineties Gordons began steadily to re-appear as regular winners of stakes, Dennis Longworth (Bringwood) and Sara Chichester (Wiscombe) both adding Gordons to their already successful kennels of other breeds. Gill Truman (Gawcott), Fran Toulson (Warrenfell), Jean Collins (Amscot), Phil O' Halleron (Racmaglen) and Nicola Harris (Clitters) are some of the award winners who joined the existing Gordon campaigners at this time, and all fought hard for their awards.

The new millennium continued the trend for a higher standard at field trials, with dogs expected to quarter wider and faster in search of their game but still be under perfect control. In addition, judges were also looking for a good style of running to match the pace of the dog – these were difficult times to try and win with a Gordon against such high competition.

There has been a welcome increase in the numbers of Gordons entered in trials over the past decade, and today, compared with the run-away Gordons of the seventies, most of these are under good control when competing. However, taking part in a field trial is only the first courageous step; it is to be encouraged and applauded but why stop there? This first step should be one of many on the way to improving the breed for working and field trials. Many of these Gordons regularly competing over the last ten years may have improved in areas of handler control but not in pace and style. They are no more competitive today than when they ran in their first field trial.

Trials are competitions to enable the best dogs of each breed to be showcased, assisting with the selection for future breeding with the hope of improving the working qualities and maintaining the highest possible working standards of all of the Pointer and Setter breeds.
With this is mind, how many of us regularly ask ourselves, where do I want to be with my Gordons in ten years time? Are we learning from watching the handlers and trainers we most admire; are we constantly striving to identify weaknesses in our dogs working abilities and searching out breeding stock that may help to strengthen these areas?

Since I started in field trials the working bred Gordons have improved tremendously in terms of pace and style, they always had stamina and of course the excellent temperament that would surprise us if it wasn't there. All Gordons have a great game sense and a strong instinct to point; the main area for all of us to endeavour to continually improve is the speed of running. Many Gordons running in trials today just do not have the pace (or athletic running style) to compete at the top in trials.

When you look back over your time in trials, have you steadily improved? Where will you be with your trial and working Gordons in ten years time? … Just the same, I do hope not!


Author & Copyright:-
Penny Darragh
About the Author


Penny Darragh (formally Hemingway) has competed in trials for over forty years, making thirteen dogs up into field trial champions, ten Gordon Setters and three Irish Setters. Ft Ch Posternpark Swift of Ensay in 1984, Ft Ch Cairnlora Blacksmith of Ensay in 1985, Ft Ch Moll of Ensay in 1989, Ft Ch Wiscombe Shillelagh of Ensay in 1998, Ft Ch Erinvale Jig (Irish Setter) in 2002, her Danish bred import - Ft Ch Wedellsborgs Aja of Ensay in 2005, Ft Ch Clitters Blackthorn of Ensay in 2006, Ft Ch Erinvale Gemma (Irish Setter) in 2008 and Ft Ch Ensay Oren and Ft Ch Ensay Nifty Ninka in 2012, her first Swedish bred import Ft Ch Zettertjärns M Emil of Ensay in 2009, her second Swedish bred import Ft Ch Zettertjärns Optimal of Ensay in 2018 and her latest Ft Ch Erinvale Ice Crackle (Irish Setter) in 2019.

Penny has won the British Champion Stake three times with Swift, Moll (on that occasion ably handled by Billy Darragh as Penny was unwell) and Gemma, and come second three times with Jig, Aja and Emil.

Back