Déjà Vu
23/01/2013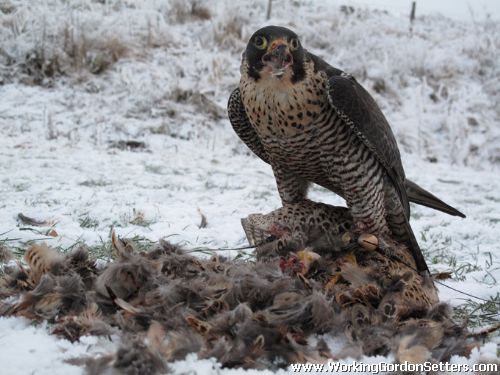 For well over two decades my goal has been to have two high flying peregrine falcons on the cadge. This goal was almost realised in 2008 before being cruelly snatched from my grasp with a tragic field accident involving Myleen (2007 eyas). This season that ever-distant goal at last became a reality, allowing me to draw comparisons with regard progress and development of two falcons. Direct comparisons are rare moments, but I was fortunate enough to witness and enjoy a few and detail the most comparable of those déjà vu moments.

2009 Season
The UK, during late 2009 and early 2010, was gripped by extreme wintry conditions. These conditions were severe enough to limit my journeying to the distant upland hunting locations. As a result I was constrained to hunt lowland locations, where travel and hawking were not severely impacted. While there was snow coverage, it was the sub-zero temperatures that presented challenges in obtaining good quality slips.

It was early morning and the snow covered landscape enhanced was little light there was. I looked at the clock in the car to note I had been driving around for about 40 minutes. And in that time I had not seen a set-up of worth, despite significant scanning of game crops and root field edges. In the rear of the truck sat Meisha (2008 eyas falcon), who had not flown for a couple of days. As such I was desperate to find her a set-up of worth today and so resigned myself that I would need to travel to another lowland location.

Upon arrival at the new destination I let the dogs out of the truck to allow them to burn off some energy, while I scanned the nearby white covered fields. In the distance I noted a pheasant in the middle of a pasture near a cattle feeder. I watched its' movements for several minutes noting that it seemed to be picking at hay as scattered around the feeder. There was no cattle to be seen (probably taken in-doors to be housed in a barn till the extreme weather passed) and as such the set-up looked appealing. With that I quickly got the dogs back into the truck and headed over to take a closer look.

This inspection revealed a cock pheasant still feeding and distant from thick cover, though I quickly realised that the approach and flush details would be tricky if a premature flush was to be avoided. I retreated to the comfort of the truck to reflect upon and play around with a number of approach options.

With a game plan finalised I exited and removed Meisha from the snugness of her hawk box compartment. I removed swivel, jesses and hood, before taking note of the weather conditions that would be entered into the flight diary later that day. The sky was overcast and gave the impression that more snow was on the way. The time was 09:35am and I was marginally outside Meisha' ideal flying window (given her early morning weigh-in). The temperature was minus eight. And the wind strength was 0.2mph. Meisha wanted to fly and soon left the fist to make her way into the wintry sky.

From my slight vantage spot I noted the pheasant had moved to the side of the cattle feeder. Meisha's outrun, on this near breathless day, was half-mile or more and yet the pheasant did not move. Four and a half minutes passed and Meisha was still climbing, though slightly distant from me. As the five minute mark I noted the falcon had reached ~700 and still climbing, though she was now beginning to ring up closer to me. This was my cue and so I began to move forward.

With me was Miller (one of the 2008 setter pups) and I was beginning to feel good that a flight would soon unfold. As we made my approach along the beech hedge snow-flakes began to fall. I raised my eyes to the sky, but the little ice crystals caused me to tighten my eyes and so impaired my vision slightly. I glanced at my watch to record Meisha had been on the wing for almost ten minutes, though still visible at ~1100'.

The pup and I continued our approach using the hedge as a shield. Upon reaching the hedge break-through location I looked up to ascertain Meisha' location and pitch, but saw nothing! I removed the telemetry receiver from my hawking vest and switched on. My heart beat increased, though the audible beep of the signal, sounding loud calmed me somewhat. While informing that Meisha was directly overhead, she was invisible given the light snow conditions. With still 100yards to go I suddenly became quite anxious that the flight I so wanted would not happen. And the last thing I wanted to do was rush the manoeuvre that would undoubtedly bring about a premature flush. There again I was now monitoring proceeding via the telemetry receiver in diminishing visibility. All in all this was not the best of command and control scenarios!

I took stock of the situation. 100 yards to the cattle feeder and yet the distance to the cover (if the desired flush was achieved) would allow Meisha only a single opportunity. As such the flush had to be near perfect. Pressure on!

We broke through the hedge and in doing so I released Miller, the young setter, to do his "stuff". While this would only allow him to quarter the pasture a few times, my actions were to re-assure Meisha that a flush was imminent. But what was worrying me was Meisha's pitch - was it simply too high (given the weather conditions) thereby impairing her vision and so prevent her from seeing what was unfolding way beneath her on the ground?

Miller zoomed over the ground to soon hit scent and zone in, informing he had the game and it was straight ahead. What style he displayed and it was nothing short of incredible to believe that at such a tender age he could pick out the distant game scent in these low, sub zero temperatures.

The telemetry continued to re-assure me that Meisha was still overhead. I glanced at my watch to record the flight duration that was now fast approaching thirteen minutes. I approached the young setter, though my mind was now racing on how this flight might unfold, and instructed him to produce his game.

All of a sudden, from the far side of the cattle feeder, the cock pheasant clattered its wings as it took to the air and head for the distant cover. So far so good as the pheasant was taking the escape route I had hoped would be followed.

With my eyes skyward I saw nothing. One second passed and nothing. Two seconds passed and nothing. Three seconds and still nothing was visible, though the beep kept sounding out. Then, and just then, a small teardrop shape came into view. Pumping in a near vertical stoop, Meisha was falling earthwards and at speed. With my eyes half closed to avoid the snowflakes touching my eyes, I watched her fall through the wintry sky. Downwards she fell at an incredible speed and at a speeding ticket speed only an adult peregrine can achieve. The stoop seemed to last for an age and my mind ran riot to parallel process pheasant speed and distant cover versus falcon falling speed and likely intersect point. The falcon then angled her descent to fly headlong on an intersect course with the pheasant. Soon both were in full view and as I had predicted there would be only one opportunity on this occasion. Meisha was going for the strike as I saw them momentarily merge. The thwack of the "collision" could be heard from my distant position. Meisha threw up and the cock pheasant fell. Hitting the ground the cock pheasant quickly righted itself, while the falcon cut her engines to power over in an attempt to get to her quarry quickly. Despite the snow and lack of cover, the pheasant managed to made good its' escape in running to the edge of the wood before the falcon came in.

Meisha knew the script and started to re-mount, but the lure was produced and she was brought in. Feeding her up on the fist, I walked over to record distance. As what height she was, I do not truly know. Did she plateau out just beyond where I recorded her last recorded pitch or her "re-entry position? I do not know. Did it take her a few seconds before she noted the pheasant in flight? Again I simply do not know. All I did know was that I had probably seen her best lowland flight of her second season so far. And for that to be achieved in such weather conditions was quite a feat in my opinion. While there was no cigar moment, it was a superb flight and with that accomplished it was now time to head home for what would be brunch given homeward travel time.


2011 Season
2011 was a vintage season for me as the weather (overall) was excellent from a classic game-hawking perspective. That said fortunes with regard my setters had not been so good. Morse (2008 pup) was coming back to fitness after a early August encounter with two Adders; a situation that led him to missing out on more than just the August field trials. Meanwhile Marty (2005 pup) having recovered from his 2011 illness had gone lame for the second time this season, a condition probably brought about by being the Go To dog on too many occasions and enduring too much mid winter running on the unforgiving, hard ground of the higher uplands. As a result this was presently limiting my setter availability to Marshall (2011 pup). He was a strong willed, enthusiastic and energetic young dog. While relatively dependable he had a tendency to "boil up" in falconry and field trial situations and as such his usage did not exactly lend itself to stress free hawking. In all I had to keep my eyes on him at all times; miss a second and he seemed to sense my attention was elsewhere and he would start doing things his way. At almost two years of age he had yet to gain any award at the pointer and setter field trials, yet I still had hope for him. And perhaps my December dependence upon him would yield the improvement I sought. Only time would tell.

On this day I had been out since early looking for lowland set-ups. While I had noted a few, they were compromised in some way and I was beginning to think I'd be better off returning home to feed up the falcons and do some more Christmas preparations. With this thought in mind I turned into a pasture field to let the setters out and scan the surrounding arable fields one last time.

Majority of fields in this area had recently been re-ploughed and re-planted with next year's crop and as such the fields were relatively bare of growth. Hardly a good spot to find game birds. As such my attention focussed on the meadow fields and it was in such a field that I noted three hen pheasants. While feeding near a cattle feeder, there were no cattle in the field, probably given the present low temperatures.

The set-up looked good though just a little tight given the proximity of a wood. Driving closer I began to realise this was the same location where Meisha, while in her second season, had missed a breakfast opportunity on a snowy winters morning in late 2009. Sadly she would not get the opportunity to perhaps draw level on this day as Missy, the 2011 eyas, had now become the Go To falcon on the cadge over the past six weeks or so. While she was yet to record a four-figure pitch, her clippy wing beat, fast sky ascent, hard hitting preference, pursuit perseverance and ease of management qualities made her a delight to have and to fly.

While there were many similarities to that late December day in 2009, the visibility on this clear icy blue sky day was vastly different to the dullish snowy threatening sky conditions back then.
• Both situations were mid winter flights
• Both situations were similar with regard air temperature, air direction and air flow conditions
• Both flights were in exactly the same locale and at the same quarry
• Both flights would be executed by a second season setter pup
• Both flights would be engineered via the same route

Missy was still learning her trade with respects to the quarry and terrains I matched her against, but had shown she was a grade A student. She is a very small falcon that flew and behaved like a tiercel. While very tenacious, her key Go To attribute was she had a wide weight control range. As a result she could (like a tiercel) be flown almost fat and yet trusted to do what the falconer wanted. On this day she weighed in at 1lb 15.25oz; the same as her exit weight from the flight pen just a few months earlier. She was on the very edge; not so much in terms of control, but in terms of focus and attitude. If any heavier she was most likely to set sail during her ascent and that flight behaviour I detest in a gamehawk.

She was very consistent and focused falcon and very much a no-nonsense falcon. However her weight today presented me with a challenge and that required the flush to happen on cue as any delay would probably cause her to scan the horizons and possibly zoom across the sky if she caught sight of a distant Merganser (as searching for an ice free stretch of river). That coupled with Marshall's hot-ness made me slightly nervous about this flight.

With a decision made to re-use the same 2009 beech hedge approach route, I removed Missy from the hawk-box, removed her falconry equipment and raised my fist above my head. Missy looked round, muted, roused and took to the air. I set the stop watch function on my watch and immediately headed down the hedge with the young, energetic setter beside me.

Reaching the hedge-break location I looked skyward to note Missy continuing to mount steeply on the freezing, near still air conditions directly above us. I glanced at my watch to note a little over three minutes had passed; as such I only had a few minutes left before she would reach her December pitch of around 850'.

Marshall and I broke through the hedge and at that I cast him off to the right. Like a greyhound out of the traps on a race night, he sped off with a fantastic break-away speed. While Marshalls' running pattern was generally quite tight, I was comfortable that he would cover his ground, reach the proximity of the cattle feeder and produce his game birds in a timeframe as accommodating normal expectations of the falcon as still mounting above.

Soon Marshall was locked up on point and with that I quickly glanced upwards to assess how Missy was progressing. On this day she was still mounting; mounting beyond her normal pitch. I was desperate to pull out the altimeter from my hawking vest, but knew that would spell trouble with a certain red setter as he would sense my eyes were off him. And that could lead to a premature flush. Moving forward I glanced at my watch to note six minutes had passed. Marshall stealthily moved forward in easy movements. While the air temperatures was minus five it always amazed me how well bird dogs could detect distant game scent, even in near still air, low temperature conditions.

I continued to click Marshall forward to approach the cattle feeder. All of a sudden the morning silence was broken with the clattering of wings as all three pheasants decided to take to the air. Marshall dropped and I knelt down beside him while at the same time looking up to see Missy fall in a near vertical stoop. She fell and fell and fell through the icy air, eventually driving through the rear pheasant. I half expected a repeat of the 2009 scenario with the pheasant making it to the wood. However not on this occasion as the pheasant unbelievably folded upon impact and fell to the ground. Missy threw up to swing round and come in to seize her big breakfast.

I praised Marshall, placed the lead round his neck before advancing towards the falcon that was now busily pluming and preparing her meal. This was her second pheasant head shot this season. And as we approached I remembered that Meisha had also head-dropped two hen pheasants in her second season. Another déjà vu aspect.

However something seemed odd and out of place. It was all too quiet and as I knelt down Missy moved around only for me to appreciate she had lost both her right hand side bell and leg transmitter! I removed the telemetry receiver from the quiver and left Marshall beside the falcon as I tried to locate. Initially I thought this was not going to be easy, though the still air, lack of thick ground cover and feather trail made it easier.

While I found the telemetry relatively quickly it took me another five minutes before locating the bell and reward-tagged bewitt, in spite of only being three feet distant from transmitter location.

Returning to falcon I brought her up on the fist and commenced to re-equip her with jesses and swivel as we all made our way back to the vehicle. While doing so I examined the pheasant head remains to note the upper manderbill had split at the cere. As such I assumed this was due to impact and that it had probably sprung away to catch both the cable tie transmitter and bell attachments, the falcons' through force resulting in their breakage situation.

Heading back to the truck I reflected on the differing flight outcomes, though recounted one more déjà vu similarity and that was to do with pitch. In 2009, given the snow storm sky, I was unable to ascertain Meishas' true height. And on this occasion I was also unable to confirm given my desire to retain control of the flight variables. Ah well......perhaps it was meant to be so.

Author & Copyright:- Brian Morris
About the Author


Brian Morris has been an active falconer for over 40 years, with the last 25+ years entirely spent game hawking lowland and upland game birds with peregrines. Game hawking relies on pointing dogs and though he ran (and trialled with some success) HPR's (German Wirehaired Pointers) for 13 years, the year 2000 saw him transition to using and field trialling Irish Red Setters. Game hawking over his irish setters on upland terrain is one of his addictions!
Back